Aiguille Dibona - Visite Obligatoire
The picturesque peak of Aiguille Dibona was re-named (formerly: Pain de Sucre du Soreiller) after Italian mountaineer Angelo Dibona after the first accent in 1913 with Guido Mayer. The route Visite Obligatoire or Obligatory Visit in English wasn't climbed until 1988. This is a long, sustained route that is reasonably well bolted but will require a trad rack of nuts and cams to supplement. The peak finishes at an altitude just over 3,000m. Although the bottom half contains the technically hardest moves, the route doesn't let up much. Its graded f6a+ with an alpine grade of TD (très difficile) . Escape is much harder after the 8th pitch so make sure you consider this before pressing on.
---
---
Approach & Descent Information
Approach: Allow a few hours for the approach which can be made from Les Etages. There is mountain hut at the base of the mountain, Ref du Soreiller.
Descent: This is done via a couple of assails off the back followed by a climbers path off the back of the mountain that weaves around to the front bringing climbers back to the hut.
See Aiguille Dibona on the climb map Open climb location in Google Maps
---
Guidebooks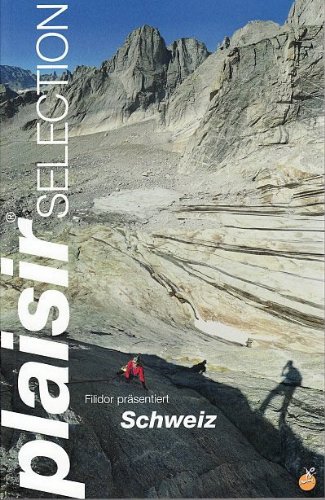 Plaisir Selection - pg. 34
I want to recommend this guidebook but I just can't. In some ways it's brilliant, the hand drawn topos are very artistic, the book has 3 languages and it takes the approach of highlighting the best climbs on the cliff, much like the approach we have taken on multi-pitch.com. Sadly, a lot of the photography is poor to terrible. The "action" shots are from the belay to the leader or second, so give little in the way of inspiration and many of the mountain images are blurry silhouettes. In addition, the images of the mountains are often just a third of the page. In this pocket-sized book, it means a 400m climb could be reduced to the size of your thumbnail. The final issue is the price which seem to be around £40.
Availible Here R.R.P. £ 38
ISBN: 9783906087405
---
Weather & Local Conditions
Seasonal Weather Information
Note that some weather stations are close or even on the mountain, others are in nearby towns. Plan accordingly!
Estimated Rainy Days Per Month
The graph shows the estimated average number of rainy days in the month that had more than 1mm rainfall or snow:
Estimated Temperature Per Month
1

-9

2

-8

7

-5

9

-3

14

1

18

4

21

7

21

7

16

3

11

0

5

-5

1

-8
Estimated average high and low temperature in degrees Celsius for the given month.
---
References & additional links
The following links will take you to external websites specifically related to this climb: Visite Obligatoire on Aiguille Dibona.
Note: They contained relevant information at the time of publishing.
---