Heiliger Geist - Traumpfeiler
The Traumpfeiler route, or Pillar of Dreams in English, is one of the best routes in the area and is justifiably very popular. It sits on the Heiliger Geist cliff, or Holy Ghost in English. The route is a mixed sport trad with plenty of bolts but still worth of a standard rack of wires and cams. Expect to have to follow other parties if you don't start very early. With a 60m rope and some extended quickdraws the route can be reduced to 5 pitches if you are so inclined. Clearly a classic of the area the route also offers stunning views and reasonably serious climbing.
---
---
Approach & Descent Information
Descent: Walk south along the top of the Heiliger Geist until you get to the southern end. Look for a single eyebolt to the left (east) that is in an obvious water runoff. Rappel down this water chute to the ground. Once on the ground head left (east) past a blue door that goes into a room in the rock and follow the obvious trail to town.
See Heiliger Geist on the climb map Open climb location in Google Maps
---
Guidebooks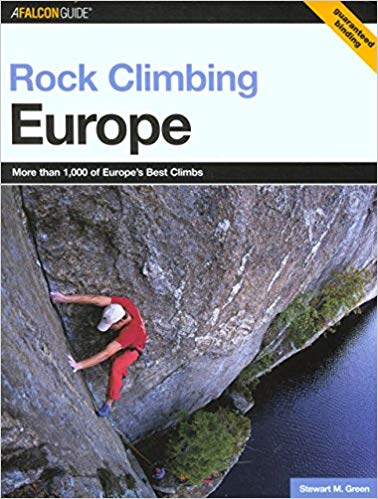 Rock Climbing Europe - pg. 410
An old book presumably aimed at American climbers, however its truly brilliant can be picked up cheap. Described as the authoritative guide to the best climbing destinations in Western Europe, including Great Britain, France, Belgium, Spain, Italy, Switzerland, Greece, Germany, and Norway. The route topos are although black and white are accompanied by good route descriptions, equipment recommendations, and accurate route ratings. The book contains a good mixture of Trad and sport across single and multi-pitch climbs. Its basically a thick A4 book thou so not practical to take to the cliff. Highly recommended.
Availible Here R.R.P. £ 10
ISBN: 9780762727179
Rock Around The World - pg. 157
The book is in French and English and covers regions around the world. The book has clear photo topographies of most routes and good descriptions including gear recommendations. The book covers trad, sport and mixed protection routes like Traumpfeiler. The only issue is, its not a cheap book, but it's well designed and tends to cover harder longer routes with most graded TD / ED alpine grades which is low to mid E grades in the British system, i.e. serious climbs.
Availible Here R.R.P. £ 35
ISBN: 9782952638876
---
Weather & Local Conditions
Seasonal Weather Information
Note that some weather stations are close or even on the mountain, others are in nearby towns. Plan accordingly!
Estimated Rainy Days Per Month
The graph shows the estimated average number of rainy days in the month that had more than 1mm rainfall or snow:
Estimated Temperature Per Month
12

4

13

4

15

6

19

9

25

14

29

19

32

22

32

22

27

18

22

14

17

9

13

6
Estimated average high and low temperature in degrees Celsius for the given month.
---
References & additional links
The following links will take you to external websites specifically related to this climb: Traumpfeiler on Heiliger Geist.
Note: They contained relevant information at the time of publishing.
---