Stetind is a huge granite pillar rising 1329 m out of Tysfjord. Voted Norways national Mountain it's an iconic sight. The South Pilar route or Sydpillaren, offers some challenging climbing, especially towards the top with a couple of N6- graded pitches which roughly equate to HVS/E1. In total it's a 14 pitch climb that is described as one of Norway's finest climbs and it's a classic alpine test piece. Getting down actually requires reversing the Original Route (graded n4), it will require ropework in sections.
---
---
Approach & Descent Information
Follow the good path from the parking area up the left side of the stream (initially marked with red paint). This leads through birch forest and eventually out into open country. Ascend through boulders following a discontinuous path - fill water bottles up here - to a level area on top of the moraine about a 100m above an iceberg filled lake. There is a big flat 'gearing up'boulder at the saddle.
See Stetind on the climb map Open climb location in Google Maps
---
Guidebooks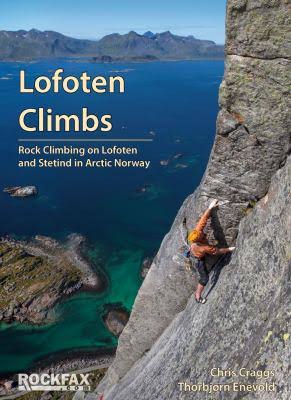 Lofoten Climbs - pg. 354
This covers rock climbing on Lofoten and Stetind in Arctic Norway. A great publication from Rockfax with clear topography and good information. The patronising puffin that appears on certain pages with silly comments does somewhat detract from the professional quality of the book but I'm sure it appeals to some. Overall an essential guidebook for people looking to climb in this part of the world and great value for money.
Availible Here R.R.P. £ 34.99
ISBN: 9781873341230
---
Weather & Local Conditions
Seasonal Weather Information
Note that some weather stations are close or even on the mountain, others are in nearby towns. Plan accordingly!
Estimated Rainy Days Per Month
15
15
17
15
17
17
16
18
19
19
15
16
The graph shows the estimated average number of rainy days in the month that had more than 1mm rainfall or snow:
Estimated Temperature Per Month
-8

-15

-8

-14

-6

-13

-2

-9

3

-4

6

-1

9

2

8

1

5

-2

-1

-6

-5

-10

-7

-13
Estimated average high and low temperature in degrees Celsius for the given month.
---
References & additional links
The following links will take you to external websites specifically related to this climb: Sydpillaren on Stetind.
Note: They contained relevant information at the time of publishing.
---