Brüggler - Direkte Plattenwand
Direkte Plattenwand, is one of the easier, more popular routes up the middle of Bruggler crag. The route is bolted but requires a small trad rack to ease some of the run out sections. There are many routes on this face, some can be climbed clean. Although it's a big face with lots of options, expect some crowds. Be wary of rockfall from other parties of climbers and be careful not to dislodge rocks from the pitted limestone route.
---
---
---
Guidebooks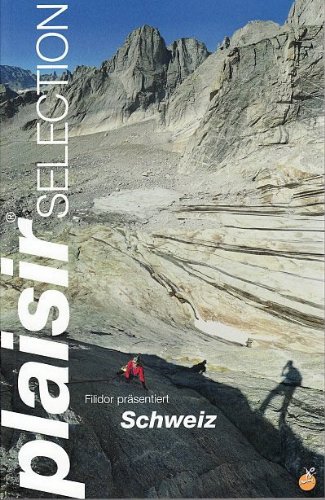 Plaisir Selection - pg. 300
I want to recommend this guidebook but I just can't. In some ways it's brilliant, the hand drawn topos are very artistic, the book has 3 languages and it takes the approach of highlighting the best climbs on the cliff, much like the approach we have taken on multi-pitch.com. Sadly, a lot of the photography is poor to terrible. The "action" shots are from the belay to the leader or second, so give little in the way of inspiration and many of the mountain images are blurry silhouettes. In addition, the images of the mountains are often just a third of the page. In this pocket-sized book, it means a 400m climb could be reduced to the size of your thumbnail. The final issue is the price which seem to be around £40.
Availible Here R.R.P. £ 38
ISBN: 9783906087405
---
Weather & Local Conditions
Seasonal Weather Information
Note that some weather stations are close or even on the mountain, others are in nearby towns. Plan accordingly!
Estimated Rainy Days Per Month
10
10
12
14
16
17
17
16
13
10
11
12
The graph shows the estimated average number of rainy days in the month that had more than 1mm rainfall or snow:
Estimated Temperature Per Month
-1

-7

-1

-8

2

-5

6

-2

10

1

12

5

15

7

16

8

13

4

10

1

3

-4

-1

-6
Estimated average high and low temperature in degrees Celsius for the given month.
---